Corporate Information
Holland Energy Plant
The Holland Energy plant located near Beecher City in east-central Illinois is the second power generating partnership for Hoosier Energy and Wabash Valley Power Association.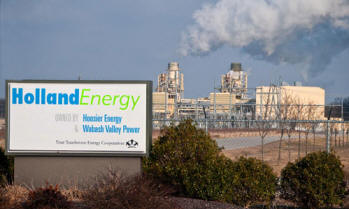 The 630-megawatt natural gas combined cycle facility became part of the cooperative's generating fleet on January 8, 2009. Hoosier Energy President and Chief Executive Officer Steve Smith said the Holland facility fits well into Hoosier Energy's generating assets portfolio. The plant adds to reliability, assists in environmental compliance and fuel diversity, helps to manage costs, and provides value in energy markets.
"With the costs of new generation rising and demand growing, the Holland plant will produce power at a competitive price for consumers served by our members," Smith said. "The plant's clean operations fit well with our existing coal, natural gas and renewable resources."
Holland Energy Plant facts
Produces enough power to meet the electricity needs of more than 500,000 homes.
Powered by clean burning natural gas with a combined cycle technology, which produces more power with less waste and less water than coal-fired plants.
Built on a 240-acre site in Shelby County, Illinois.
Construction began in June 2000 and was completed in September 2002.
Employs 24 full-time workers.
Enhances local tax base.
Owned by Hoosier Energy and Wabash Valley Power.
Read more about the Holland Energy Plant in our information module.