NEWS
January 16, 2014
Contact: Jonie Gates (812) 876-0301

Hoosier Energy donates Sullivan High School sound system
Hoosier Energy was recognized Thursday night for donating a new audio system for the Sullivan High School Gymnasium. Employees from Hoosier Energy's Merom Generating Station attended the boys' basketball game against West Vigo to formalize the $21,000 donation for purchase and installation of the sound system.
Hoosier Energy Plant Administrative Coordinator Jon Bobbitt said the gym sound system project was identified as long overdue. Installed when the gymnasium was built, the previous system wasn't meeting the school's audio needs.
As a cooperative business, Hoosier Energy is committed to the communities it serves. Many of the company's employees live in Sullivan County. Bobbitt and others on the power plant's contributions committee are alumni of the school.
"Our employee committee was looking for a local investment that would impact a lot of people, provide long-term benefits and provide 'bang for the buck.' The gymnasium is a focal point for many community activities in addition to high school sports. We see this as a meaningful project that will provide the community with the power of sound for many years," Bobbitt said.
In addition to the Merom Station, Hoosier Energy operates seven other power production facilities and a 1,700-mile transmission network. With headquarters in Bloomington, Hoosier Energy provides electric power and other services to WIN Energy REMC and 17 other electric cooperatives in Indiana and southeastern Illinois.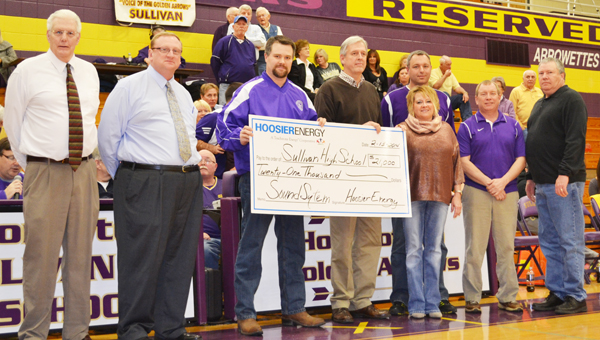 Hoosier Energy made a contribution of $21,000 to Sullivan High School for a new audio system in the gymnasium. The Hoosier Energy Merom Station Contribution Committee attended the boys' basketball game Thursday night to formalize the donation to school officials. Pictured (l-r) are: Sullivan High School Principal David Springer, Southwest Sullivan School Corporation President Chris Stitzle, Merom Station's Outage Coordinator Grant Bryant, Plant Manager Karl Back, Plant Administrative Coordinator Jon Bobbitt, Administrative Information Coordinator Becky Cox, Maintenance Mechanic Jeff Lookebill and Chemical Technician Alan Miller.