NEWS
January 26, 2014
Contact: Rick Moore (812) 876-0282

Congressman Bucshon visits Hoosier Energy Power Delivery Operations Center
Eighth District Rep. Larry Bucshon (R-IN) visited Hoosier Energy's newly opened Power Delivery Operations Center near Spencer in Owen County on Monday, Feb. 24.
The visit to the $22 million facility occurred approximately 16 months after Bucshon was a keynote speaker for the center's groundbreaking on Oct. 30, 2012. Hoosier Energy Chief Executive Officer Steve Smith joined Bucshon for a tour of the complex.
"It is impressive to see the progress that was made on this 90-acre site since my last visit here," said Bucshon. "Hoosier Energy has constructed a well-organized facility to serve its member electric cooperatives and the community. And, I commend them for providing quality, affordable energy for rural Hoosiers across Southwest Indiana."
The Power Delivery Operations Center includes office and warehouse buildings, maintenance, vehicle service, a communication tower and storage facilities. The worksite for about 66 employees, the complex creates a more productive work environment for transmission, substation, system control, engineering, and other power supply operations.
"This facility provides flexibility, efficiencies and access that is important to our power supply mission," said Chief Executive Officer Steve Smith.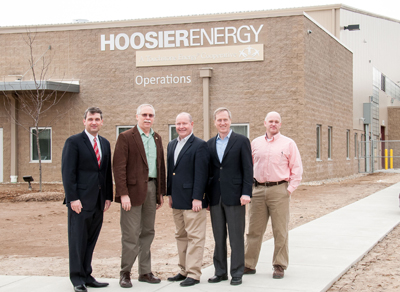 Congressman Larry Bucshon visited Hoosier Energy's new Power Delivery Operations Center, located on State Road 43 near its intersection with State 46 in Owen County. Pictured, from left, are: Scott Bowers, vice president of government relations for the Indiana Statewide Association of Electric Cooperatives; David Sandefur, Hoosier Energy power supply vice president; Rep. Bucshon; Hoosier Energy CEO Steve Smith, and Brady Mann, Hoosier Energy manager of delivery services.