NEWS
February 29, 2012
Contact: Chris Tryba (812) 876-0337
Hoosier Energy making major investment in Merom Station
Hoosier Energy employees are gearing up for the largest maintenance outage project in the history of the Merom Station in Sullivan County. Between 2011 and 2015, the generation and transmission cooperative is investing about a half-billion dollars in the 1,070-megawatt power plant.
For the 2012 maintenance project, Unit 2 will be taken out of service in early March with completion tentatively scheduled for early May.
The outage will include major improvements to the station's boiler and environmental protection equipment such as electrostatic precipitators, scrubbers, and selective catalytic reduction system.
Planning for the various projects has been underway for months with coordination by Hoosier Energy's plant, construction, outage and asset management teams. A similar nine-week outage project is scheduled for spring 2013 on Unit 1.
"We're replacing some major systems that are vital to the successful operation of our generating facility and to further protect the environment," said Plant Manager Karl Back. "This is a substantial investment that demonstrates Hoosier Energy's commitment to maintaining reliable and efficient operations here for many years."
Hoosier Energy employs more than 200 people with an annual payroll of nearly $16 million at the Merom Station. Sullivan County residents account for more than half the workforce.
Contractors will employ about 1,600 workers for various projects during the outage. An average of 1,000 contract workers will be on the site daily for the next nine weeks.
"Projects such as this provide a boost to the local community and region by providing jobs for workers who purchase goods and services from area merchants," Back said.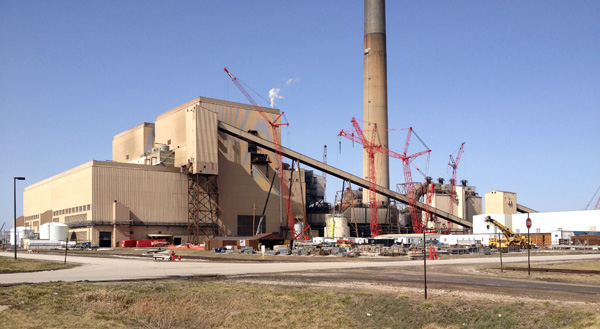 # # #
About Hoosier Energy
Hoosier Energy is a generation and transmission cooperative (G&T) with headquarters in Bloomington, Indiana. The G&T provides electric power and other services to 18 electric distribution cooperatives, which collectively meet the electricity needs of more than 750,000 residents, businesses, industries and farms. Hoosier Energy, Indiana's first power supply cooperative, operates five power plants, two renewable energy plants and a transmission network that includes 1,700 miles of high-voltage lines, 21 primary substations and more than 350 delivery points. For more information, visit www.hepn.com.

In addition, Hoosier Energy provides training, key accounts, marketing, communications and technical services to its member cooperatives. Hoosier Energy and its members are cooperative businesses that provide reliable, affordable electric power and carry on a longstanding commitment to improve the quality of life in our communities.