NEWS
March 10, 2014
Contact: Jonie Gates (812) 876-0301

Hoosier Energy donates to Stair Steps to Success mentoring program
Hoosier Energy has donated $600 to the Sullivan County organization known as Stair Steps to Success. The two-year mentoring program supports 20 seventh and eighth grade students who meet income-qualifying guidelines.
Stair Steps to Success was created to expose local youth to various aspects of business, help them set goals, teach them how to apply to colleges, and for funding through the 21st Century Scholars Program -- a state incentive that can provide up to a four-year scholarship at an Indiana college or university. In addition, qualifying students are involved in community service projects.
Amber Hunt, secretary for the non-profit organization, said the Hoosier Energy donation would support one student for one year.
"It's important to shape behaviors early on and expose young people to opportunities available to them," Hunt said. Area mentors for each student are sought annually. Persons interested in being a mentor can learn more about the program at Stair Steps to Success.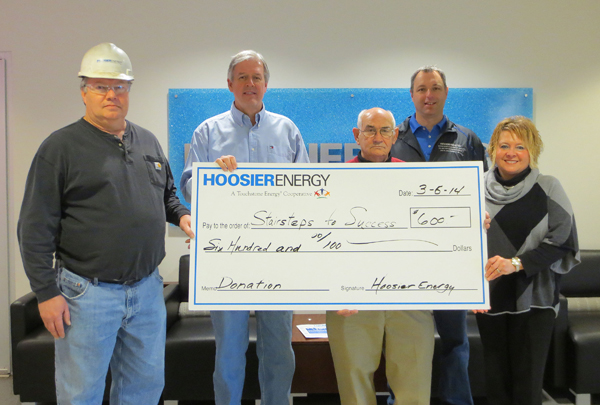 Hoosier Energy made a contribution of $600 to Stair Steps to Success, a mentoring program for Sullivan County youth. Hoosier Energy's Merom Station Contribution Committee selected the non-profit for the donation. Pictured from left are: Chemical Technician Alan Miller, Plant Manager Karl Back, Vice President of Stair Steps to Success Jack Gettinger, Plant Administrative Coordinator Jon Bobbitt and Administrative Information Coordinator Becky Cox. Committee member Jeff Lookebill is not pictured.