NEWS
March 21, 2011
Contact: Shannon Feyen (812) 322-8524
Indiana Catfish Association tournament at Turtle Creek Reservoir
Tournament draws anglers of all ages
Hoosier Energy sponsored an Indiana Catfish Association open tournament on March 19 at Turtle Creek Reservoir in Sullivan County. Fishing enthusiasts traveled from all over the state to participate for the third year in a row.
There were 256 individual participants with 111 boats on the water consisting of teams of two or three. Entrants were judged on the weight of their largest catfish and the total weight of their 10 best. The tournament offered $2,500 in cash and prizes.
Pleased with the attendance and weather at the event, Indiana Catfish Association President James Halcomb said, "I think it turned out well and with no problems. It was good that there were kids and older people, it's all about having a family experience."
The first place winner was a family from Petersburg; Nathan and Rachael Leighty and their son Devon Fawks. Their 10 channel catfish weighed in at 20.30 pounds.
"This is my first year coming but Nathan has come every year," Rachael said. "It was a lot of fun. We just used shad for bait and I caught the big fish towards the very end."
The winning weight for a single catfish was a 5.59-pound channel cat caught by teammates Steve James and Gregg Bolton.
The exposure from the event helped showcase the fishing opportunities and other benefits of the 1,550-acre reservoir, which provides cooling water for Hoosier Energy's Merom Generating Station.
Hoosier Energy supplies power and services to 18 member electric cooperatives (REMCs/RECs) that serve nearly 300,000 meters in 49 Indiana counties and 11 southeastern Illinois counties.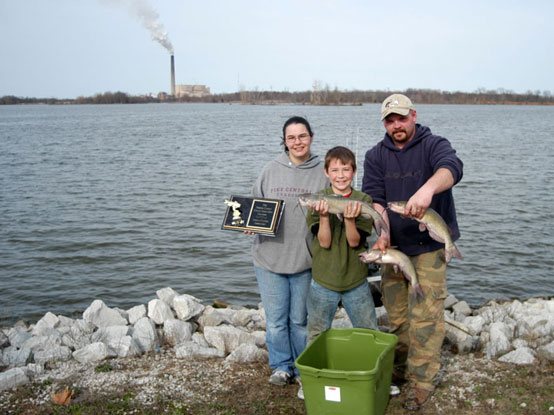 Racheal Leighty, left, her son Devon Fawks, middle, and husband Nathan Leighty, right, show off their channel catfish they caught at the Indiana Catfish Association tournament on March 19 at Turtle Creek. Their 10 catfish weighed in at 20.30 pounds, giving them first place in the tournament.