NEWS
April 4, 2014
Contact: Rick Moore (812) 876-0282

Celebrating 65 years of cooperative power supply
Hoosier Energy's 65th anniversary was celebrated by approximately 300 attendees at the power supply cooperative's 2014 Annual Meeting in French Lick April 9. Today, Hoosier Energy has grown to 18 member systems in Indiana and Illinois with annual sales of $670 million and assets of $1.9 billion.
In his message, Chief Executive Officer Steve Smith praised the efforts of past and present cooperative leaders in meeting the needs of their members. One of the key issues facing electric co-ops and utilities is promoting public policy that supports an "all of the above" national energy strategy that includes all generation options including renewables, coal, natural gas and nuclear power.
"All energy options are imperfect, but taken together, they can provide a path to meet future power supply needs," said Smith. He complimented member efforts in supporting the national Action.coop communication campaign.
Jim Weimer of Utilities District of Western Indiana REMC was recognized for completing two years as Hoosier Energy Chairman of the Board. As the power supply co-op marks 65 years, he reminded attendees of recent successes including a favorable financial outlook and competitive rates, a skilled and dedicated workforce, increasing diversity and depth of generation resources, and the construction of new facilities including a Power Delivery Operations Center and headquarters building.
Honored for their years of service as Hoosier Energy directors were: Jerry Jackle, Dubois REC, 25 years; Steve Stumler, Clark County REMC, 5 years; Janet Anthony, Bartholomew County REMC, 2 years; and Dan Schuckman, WIN Energy REMC, 2 years.
The 2013 Annual Report is available for download here.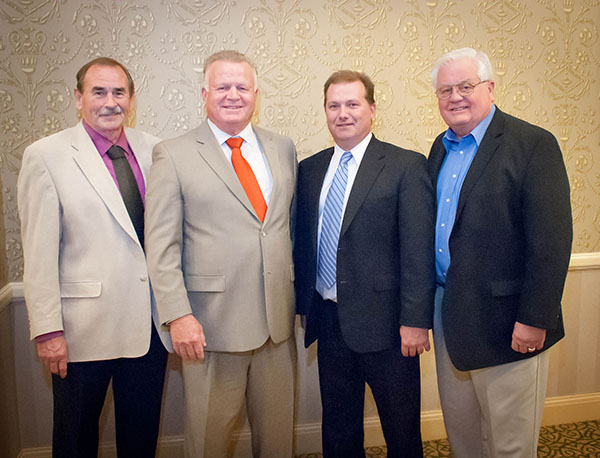 Hoosier Energy Board of Directors officers elected for 2014 are (from left) Treasurer Robert Stroup, RushShelby Energy; Secretary Steve Stumler, Clark County REMC; Chairman Darin Duncan, Harrison REMC, and Vice Chairman Herbert Haggard, Johnson County REMC.