NEWS
March 21, 2011
Contact:
Chris Tryba (812) 876-0337
Rick Moore (812) 876-0282
2011 Hoosier Energy Annual Meeting
Cooperatives put members first in meeting power needs
Hoosier Energy is responding to uncertainty in the electric utility industry by creating options to continue to provide reliable and affordable power for member systems and their consumers.
Electric cooperative leaders from central and southern Indiana and southeastern Illinois gathered April 8 at French Lick for the 2011 Hoosier Energy Annual Meeting.
Chief Executive Officer Steve Smith told the nearly 300 attendees that uncertainties include rising fuel costs, lack of a national energy policy, increasing regulatory requirements and global events. He quoted legendary Coach John Wooden who advised "Never let what you can't do interfere with what you can do."
"Our strategy relies on sustaining existing coal and natural gas generating units and long term contracts to meet most member needs," Smith said. "To support growth, we'll supplement those resources with demand side management, with renewable energy and by having sites ready for natural gas plants if needed."
He cited the success of member demand side management programs that have saved more than half a million megawatt-hours and reduced summer peak demand by 12 megawatts since 2009.
"We know our success always depends on putting members first and working to maintain the trust developed over the past seven decades," Smith concluded. "We earn that trust through being honest and open with members, and we know we have to keep earning it every day."
Board Chairman Dale Walther said Hoosier Energy and members are a part of the Midwest cooperative family that has a strong history of meeting members' power supply needs reliably and affordably.
"I'm proud of being a Midwesterner. We work hard. We pay our bills. We get the job done and in my opinion we're the backbone of the country," Walther said. "We're the ones who are going to lead this country out of recession."
Following the Annual Meeting, Hoosier Energy directors re-elected Walther as chairman for another year. Other officers are: Vice Chairman August Bauer, Daviess-Martin County REMC; Secretary Darin Duncan, Harrison REMC, and Treasurer James Weimer, Utilities District of Western Indiana REMC.
Five directors were honored for years of service on the board: 2 years – Steve Stumler, Clark County REMC; 5 years – Jerry Pheifer, South Central Indiana REMC; 10 years – August Bauer, Daviess-Martin County REMC; 15 years – Charles Meier, Bartholomew County REMC and Dale Walther, Whitewater Valley REMC.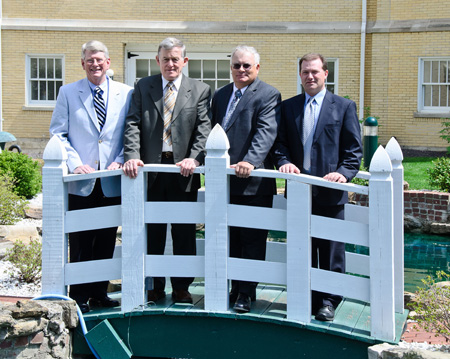 The Hoosier Energy Board of Directors officers for 2011-2012 are (from left) Treasurer Jim Weimer, Utilities District of Western IndianaREMC; Vice Chairman August Bauer, Daviess-Martin County REMC; Chairman DaleWalther, Whitewater Valley REMC; Secretary Darin Duncan, Harrison REMC.