NEWS
April 13, 2012
Contact: Chris Tryba (812) 876-0337
2012 Annual Meeting: Celebrating the spirit of cooperation
The seven principles that guide cooperative business are being celebrated around the globe during 2012—the International Year of Cooperatives.
Hoosier Energy and its members gathered for the generation and transmission co-op's 2012 Annual Meeting April 11 to celebrate one of those principles—cooperation among cooperatives—that has assured a reliable and affordable power supply for 63 years. Hoosier Energy supplies wholesale electric power and value-added services to 18 member co-ops in central and southern Indiana and southeastern Illinois.
At the annual membership meeting, Chief Executive Officer Steve Smith noted the efforts of electric cooperatives in restoring service following devastating and deadly tornadoes that struck southern Indiana in early March.
"The cooperative spirit is demonstrated when we respond to the needs of members," Smith said. "We work to meet those needs every day, and some days test us more than others."
"We provide a unique product where supply and demand must be in perfect balance," he added. "We embrace with pride our obligation to deliver that remarkable invisible product that's essential to our economy and way of life."
In addition to comments by Smith and Board Chairman Dale Walther, the meeting featured operations and financial reports, director service awards and displays on environmental education, demand side management, human resources, renewable energy and training. A live video feed allowed guests to watch maintenance and upgrade projects underway at the Merom Generating Station in Sullivan County.
Walther, concluding a two-year term as chairman and 10 years as an officer, lauded directors for their commitment and ability to respond to economic challenges and a changing industry. The power supply co-op reported solid 2011 financial results including revenues of $649 million, increased member sales, return of member patronage capital, lower than forecasted rates and closing of financing at favorable rates.
Two new directors were elected: Janet Anthony of Bartholomew County REMC and Dan Schuckman of WIN Energy REMC. They replace Charles Meier and Emil Page, respectively, who are retiring from the Hoosier Energy Board.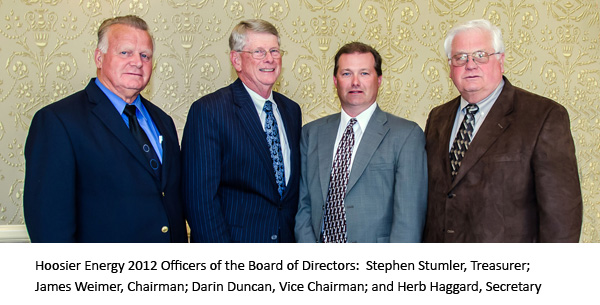 # # #
About Hoosier Energy
Hoosier Energy is a generation and transmission cooperative (G&T) with headquarters in Bloomington, Indiana. The G&T provides electric power and other services to 18 electric distribution cooperatives, which collectively meet the electricity needs of more than 750,000 residents, businesses, industries and farms. Hoosier Energy, Indiana's first power supply cooperative, operates five power plants, two renewable energy plants and a transmission network that includes 1,700 miles of high-voltage lines, 21 primary substations and more than 350 delivery points. For more information, visit www.hepn.com.
In addition, Hoosier Energy provides training, key accounts, marketing, communications and technical services to its member cooperatives. Hoosier Energy and its members are cooperative businesses that provide reliable, affordable electric power and carry on a long-standing commitment to improve the quality of life in our communities.