NEWS
May 8, 2014
Contact:Claire Gregory (812) 876-0267

Co-ops voice strong message in Washington D.C.
More than two dozen representatives of Hoosier Energy member cooperatives were among a chorus of voices on Capitol Hill May 4-7 seeking national policies that will keep electricity reliable and affordable for consumers.
More than 2,500 participants rallied at the 2014 National Rural Electric Cooperative Association (NRECA) legislative Conference on behalf of co-op priorities that stretch beyond the partisan political divide.
"It's important for electric cooperatives to have a presence here in Washington D.C. and form relationships with our legislators," said Jackson County REMC Chief Executive Officer Mark McKinney.
Grassroots political efforts are a hallmark of electric cooperatives, which are owned by the consumers they serve. For more than 40 years, co-op leaders have gone to the nation's capital each year to educate office holders and their staffs about significant issues.
Electric co-ops submitted more than 500,000 comments to the Environmental Protection Agency in opposition to the proposed New Source Performance Standards regulating new power plants. Indiana ranked third in comments submitted with nearly 32,000 including almost 20,000 from Hoosier Energy and its members. WIN Energy REMC topped all Indiana co-ops in comments with 3,232. Hoosier Energy member co-op Wayne-White Counties Electric Cooperative topped Illinois co-ops in submitting 3,277 comments.
The Indiana Delegation personally met with Senators Joe Donnelly and Dan Coats, and Representatives Larry Bucshon and Jackie Walorski. The meetings took place on primary election day and staff members of other Representatives met with the group.
The 2014 Legislative Conference issues included:
-- Greenhouse gas standards that threaten electric reliability and affordability across the country. Co-ops want an adequate comment period on proposed regulations for both new and existing power plants.
-- Co-ops are asking Congress to ensure that the Federal Emergency Management Agency policies are consistently applied and in line with established practices.
-- Co-ops use large water heaters to help save consumers money and manage peak loads through demand response programs. Co-ops want to make sure that new efficiency standards do not eliminate those types of water heaters.
-- The number of species listed as threatened or endangered is increasing. Co-ops support a reform package to update, improve and modernize the Endangered Species Act for the 21st century.
-- NRECA International helps bring electricity to developing countries. The Electrify Africa Act will assist sub-Saharan Africa where nearly 600 million people live without electricity.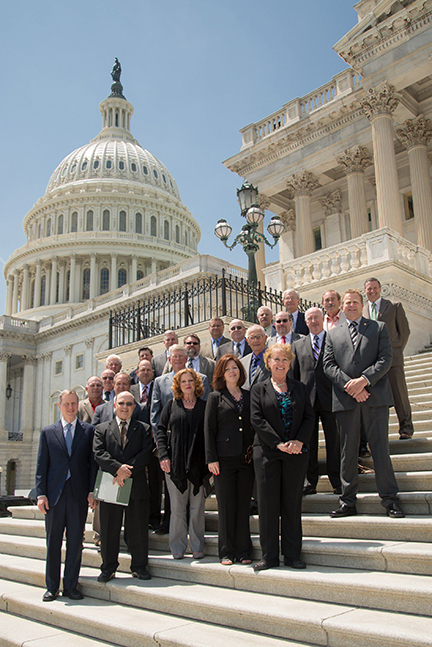 Hoosier Energy Directors Don Braun, Don Cross, Bob Stroup and Jim Weimer; Chief Executive Officer Steve Smith, Public Affairs Director Randy Haymaker and Communication Coordinator Rick Moore were among the delegation of Indiana cooperative representatives at the 2014 NRECA Legislative Conference. Other Hoosier Energy Power Network attendees included: Ron Arnholt of Bartholomew County REMC; Tammie Spurlock and Roy Friedersdorf of Decatur County REMC; David Lett of Harrison REMC; Shannon Thom and Wayne Jackson of Henry County REMC; Mark McKinney of Jackson County REMC; Chet Aubin of Johnson County REMC; Terry Jobe of RushShelby Energy; Greg McKelfresh and Lisa Prosser of South Central Indiana REMC; Philip Meyer of Southern Indiana Power; Brian Sparks, James Jackson and Ron Thompson of Utilities District of Western Indiana REMC; Tom Gregory of WIN Energy REMC, and Daryl Donjon and Dale Harris of Wayne-White Counties Electric Cooperative.