NEWS
May 23, 2012
Contact: Chris Tryba (812) 876-0337

Team effort earns top national communication award
A collaborative communication effort by Hoosier Energy and its member systems earned the 2012 Edgar F. Chesnutt Award, the highest honor bestowed by the National Rural Electric Cooperative Association (NRECA) Spotlight on Excellence Awards program.
The communication campaign was recognized May 16 during the opening session of CONNECT '12, NRECA's national communication, marketing and member services conference.
NRECA Chief Executive Glenn English introduced a video presentation detailing the "Team Up To Power Down" communication campaign. Like utilities around the country, Hoosier Energy and its distribution co-op members faced rate increases due to rising fuel and materials costs, and pressures from increasing regulations and environmental compliance.
To prepare consumers for the impact, a committee of member co-op chief executives and Hoosier Energy staff developed a plan to communicate rate changes, the reasons behind them and what consumers could do to control costs. The goal was to motivate consumers to team up with their local cooperatives to save energy, use electricity off-peak and help keep electricity affordable.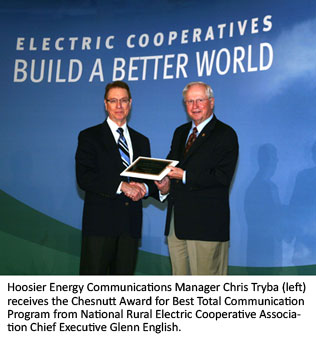 "On behalf of Hoosier Energy, I'm deeply honored and proud to receive the Chesnutt award, which holds a venerable place among electric co-op communicators," said Chris Tryba, Hoosier Energy communication manager, who accepted the award from NRECA CEO English.
"As many of you know, it takes a great deal of collaboration and support to successfully carry out a project with the scope of the Team Up to Power Down campaign," Tryba said. He went on to thank Hoosier Energy CEO Steve Smith and Member Services and Communication Vice President Tom Van Paris, and recognize the roles of communication department staff and member systems.
The theme Team Up To Power Down encompassed a comprehensive campaign that began with baseline research on consumer understanding of the issues related to the communication efforts. The results were used to develop the goal, objectives, audiences, strategies, tactics, and a budget.
To ensure that the plans met member needs, two sessions with co-op communicators were held to secure feedback and adjust the plan.
An array of resources was developed for the campaign including traditional print materials for co-op publications, while also employing video and Facebook to reach key audiences including consumers, directors, employees, and community groups.
Employee and director education included an innovative Family Feud-style game and motivational videos. An online tracking tool was used to evaluate progress of member systems a mid-year communicators survey secured additional input for 2012 campaign updates.
"The Team Up To Power Down campaign is a plan that came together with terrific contributions from distribution cooperative managers, member communicators, Hoosier Energy staff and our consultant," said Jackson County REMC Chief Executive Officer Jed Wheatley, who chaired the managers communication committee.
The Chesnutt Award is presented to the Spotlight on Excellence entry in the Best Total Communication Program category that receives the highest score from three judges from nationally accredited universities. The judges praised the campaign's plan and strategy, research, methodology, creative implementation and evaluation. One judge described the teamwork concept and detailed plan as having "the precision of a military headquarters preparing for battle."
Edgar F. Chesnutt was the manager of corporate communication with Arkansas Electric Cooperatives from 1961 until his death in 1987. He wrote a highly praised public relations handbook, "Getting in Step."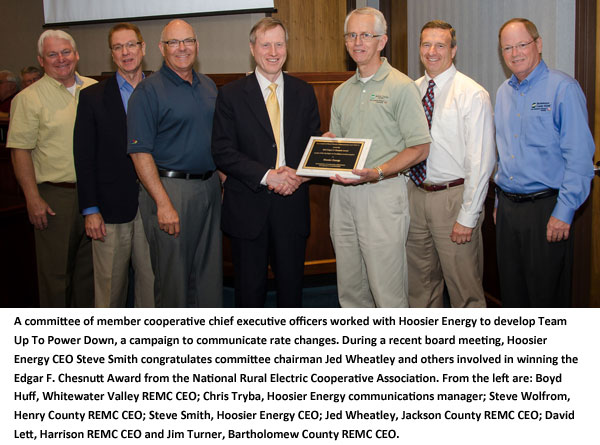 ###>
About Hoosier Energy
Hoosier Energy is a generation and transmission cooperative (G&T) with headquarters in Bloomington, Indiana. The G&T provides electric power and other services to 18 electric distribution cooperatives, which collectively meet the electricity needs of more than 750,000 residents, businesses, industries and farms. Hoosier Energy, Indiana's first power supply cooperative, operates five power plants, two renewable energy plants and a transmission network that includes 1,700 miles of high-voltage lines, 21 primary substations and more than 350 delivery points. For more information, visit www.hepn.com.
In addition, Hoosier Energy provides training, key accounts, marketing, communications and technical services to its member cooperatives. Hoosier Energy and its members are cooperative businesses that provide reliable, affordable electric power and carry on a long-standing commitment to improve the quality of life in local communities.