NEWS
September 28, 2011
Contact: Rick Moore, Hoosier Energy (812) 876-0282
Power plant personnel, local agencies work together during drill at Hoosier Energy's Merom Generating Station
An emergency drill held Sept. 28 at Hoosier Energy's Merom Generating Station will help ensure power plant workers as well as local agencies are prepared to respond to a real emergency.
The Merom Station Emergency Response Team, Sullivan County Fire Department, Sullivan County Emergency Medical Services, Sullivan County Sheriff Department, Sullivan County Hospital and Terre Haute-based Lifeline Helicopter Emergency Transport cooperated in the drill to become more familiar with the power plant layout, operations and emergency protocols.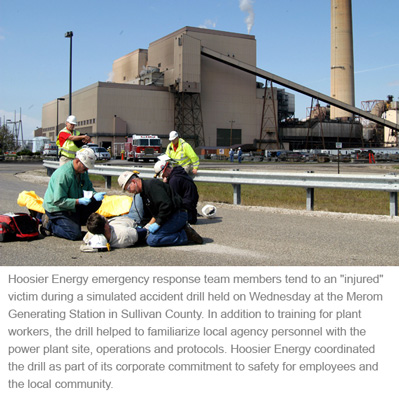 Hoosier Energy coordinated the drill as part of its corporate commitment to safety for employees and the community.
"The drill and the coordination required to plan the event were important in ensuring a suitable response in an actual emergency situation," Merom Station Safety Specialist Phil Ballard said. "We hope with the time spent together on this drill, all those involved will become more familiar with the plant layout and what to expect if they are called on site. We appreciate all the effort by the agencies and individuals involved."
The drill simulated accident and injury situations. The plant emergency response team and local emergency services teams arrived at the scene and performed situation assessments, rescue operations and other duties as if there were an actual emergency.
Hoosier Energy has eight employees dedicated to safety through the Training and Safety Department. As well 18 employees at the Merom Station are involved in fire brigades, emergency response teams and as first responders. Regular training and drills are conducted throughout the year.
"We have dedicated employees who volunteer for these emergency response positions. They do it to benefit their co-workers and that demonstrates a great commitment to safety," said Training and Safety Manager Brad Hyland. "They spend considerable time training, earning certifications and participating in drills like the one today. The emergency drill allowed our personnel to interact with local emergency agencies in Sullivan County, which helps build a stronger relationship within the community."
Merom Generating Station has a production capacity of more than 1,000 megawatts and provides low cost dependable baseload for member electric cooperatives. Based in Bloomington, Hoosier Energy is the power supplier for 17 electric cooperatives in central and southern Indiana as well as one in southeastern Illinois.