NEWS
December 16, 2011
Contact: Chris Tryba, Hoosier Energy (812) 876-0337
2012 marks 40 years of Electric Co-op support for Indiana Festivals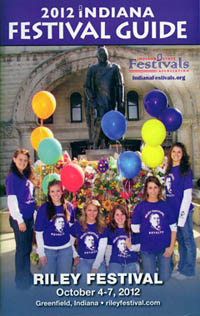 Central and southern Indiana's electric cooperatives are marking 40 years of support for Indiana tourism with the publication of the 2012 Indiana Festival Guide. Copies of this popular and comprehensive tourism publication are now available from Hoosier Energy power network cooperatives.
In 1972, power supplier Hoosier Energy published the first Southern Indiana Calendar of events, which listed 41 festivals. In the decades that followed, Hoosier Energy and its member cooperatives teamed up with the Indiana Department of Tourism to sponsor the more comprehensive annual Indiana Festival Guide.
Whether you're looking for a winter weekend getaway for two or a Fourth of July celebration fit for the whole family, the one place you can find them both – and everything in between – is in the 2012 Indiana Festival Guide.
The 70-page guide features a full-color cover and chronologically lists more than 400 festivals, craft fairs, holiday shows, historical re-enactments and community celebrations held throughout the year in Indiana. Hoosier Energy's sponsorship is recognized on page 2 of the 2012 edition, which also features a full-color Together We Save advertisement on the back cover. As well, 15 Touchstone Energy efficiency messages are placed throughout the publication.
Tourism is an important industry comprised of many small businesses that provide positive and significant contributions to Indiana's economy. Annual spending from more than 62 million visitors exceeds $10 billion in Indiana. The industry generates more than $1 billion in local and state tax collections from visitor expenditures. It also creates one in 10 jobs and employs approximately 257,000 Hoosiers.
Committed to the communities they serve, central and southern Indiana's Touchstone Energy Cooperatives are pleased to highlight the best and most exciting events Indiana has to offer by sponsoring the Indiana Festival Guide.
For a copy of the 2012 guide, see your local Touchstone Energy Cooperative. More information on the Festival Guide and other Indiana travel brochures is available at www.VisitIndiana.com.