Corporate Information
Clark-Floyd Landfill Methane Generation Project
Hoosier Energy has constructed an electricity generation plant at the Clark-Floyd Landfill that produces 4 megawatts of renewable energy. Cooperative leaders, local officials and guests gathered at the Clark County REMC headquarters October 15, 2007, to dedicate the landfill methane generation (LMG) project. The plant was expanded in the spring of 2009.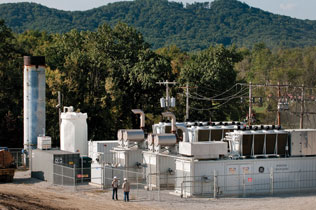 At 4 megawatts of capacity, the landfill generation project provides enough electricity for more than 2,000 typical homes. The landfill is located on a 400-acre site in Clark County.
Clark and Floyd County Commissioners authorized sale of methane gas from the landfill to produce electricity from Hoosier Energy's generators. Electricity is delivered to the power grid over Clark County REMC's distribution system.
The plant features three General Electric reciprocating engines that operate on methane gas, a landfill byproduct from waste decomposition. Production cost of power is compared favorably to wholesale market prices. The landfill renewable power makes up a portion of the power supply for Hoosier Energy members – 17 central and southern Indiana electric cooperatives and one southeastern Illinois cooperative that distribute power to 700,000 residents, industries, businesses and farms.
Construction of the plant began in early 2007. The project received a $100,000 Alternative Power and Energy Program grant from the Indiana Office of Energy and Defense Development. As well, the project was approved for Clean Renewable Energy Bonds (CREB) financing under a program authorized by the 2005 Energy Policy Act.
The plant is a key component of Hoosier Energy's renewable energy policy designed to conserve the use of traditional fuels. The policy encourages developing efficient, economical renewable energy resources.
Livingston Landfill Methane Generation Plant
Hoosier Energy added the 14-megawatt Livingston, Illinois landfill-gas-to-energy renewable energy facility to its power production portfolio in November 2011.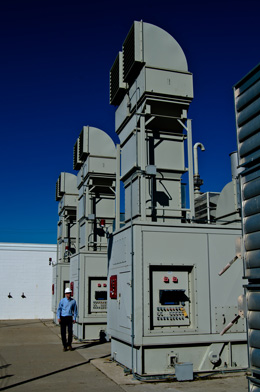 American Disposal Services of Illinois, Inc., a Republic Services Company, (NYSE:RSG), operates the Livingston Landfill, which supplies fuel to the renewable energy facility located near Pontiac.
Electricity produced at the plant is enough to provide power for about 9,000 homes that typically use 1,200 kilowatt-hours of electricity per month.
The 460-acre landfill site is located in Livingston County about 100 miles southwest of Chicago. Republic employs approximately 50 people at the facility. The Livingston gas project is one of 70 landfill gas and renewable energy projects at Republic facilities.
Commissioned in 2001, the plant is powered by three Solar Caterpillar Taurus 60 turbine engines. The facility has not been operated since 2006. Energy from the plant is delivered to the electric grid through an interconnection with Illinois utility, ComEd.
Landfill biogas, which is created when organic material in a solid waste landfill decomposes, consists of about 50 percent methane. Landfill generation projects contribute to reduction of greenhouse gases by destroying the methane and by avoiding the need for energy from non-renewable sources.
Read more in our information module on Landfill Methane Gas Facilities.