Corporate Information
Lawrence Generating Station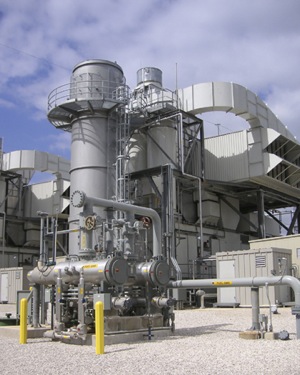 The Lawrence Generating Station began commercial operation on May 1, 2005. Hoosier Energy and Wabash Valley Power Association own the $90-million, 258-megawatt natural gas-fired generating facility, located on a 50-acre site between Bedford and Mitchell in Lawrence County.
Lt. Gov. Becky Skillman was present at the plant's official dedication on July 13, 2005.
Each of the station's six units has a capacity of 43 megawatts. The quick start-up capability of its simple cycle combustion turbines adds operational and economic flexibility for the cooperative power suppliers, particularly during periods of peak demand.
The site is adjacent to natural gas lines, water supplies and Hoosier Energy's 161-kilovolt transmission lines, which provide access to the power grid. North American Energy Services operates the Lawrence Station under a contract with Hoosier Energy.
Lawrence Generating Station facts
At full operation, the 258-megawatt plant can supply the power requirements of 85,000 homes.
Construction of the plant began in September 2003 and required approximately 350,000 hours of labor.
Cost of the plant was approximately $90 million.
The plant is capable of reaching full capacity within 13 minutes of dispatch.
The plant's General Electric gas turbine engines are similar to those used on large commercial aircraft. The engines are capable of operating quickly and efficiently through a broad range of power settings.
The power output on each engine is approximately 43,000 kilowatts.
Two 30-inch natural gas pipelines supply fuel for the plant.
Worthington Generating Station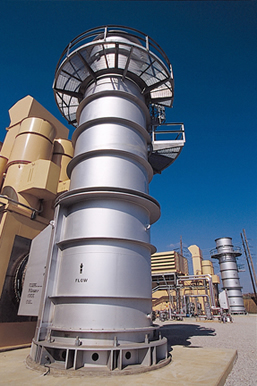 The Worthington Generating Station, a 174-megawatt natural gas-fired generating plant in Greene County, is used to meet member peaking power needs, make off-system sales and satisfy generating reserve requirements.
Opened by Williams Energy in 2000, the Worthington Station was acquired by Hoosier Energy in early 2003.
The plant is connected to the power grid through Hoosier Energy's 138-kilovolt transmission lines and adjacent primary substation. The plant is operated by North American Energy Services under a contract arrangement.
Read more in our information module for Lawrence and Worthington power plants.