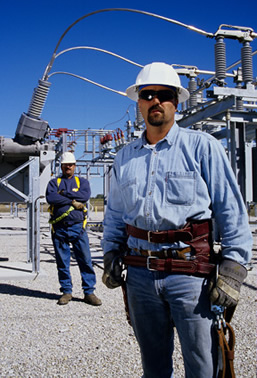 Corporate Information
Power Delivery
Hoosier Energy owns and maintains more than 200 substations and 17 primary substations as well as other power delivery points. Substations switch, change or regulate electric voltage. As well, Hoosier Energy's power delivery network includes some 1,500-plus miles of high-voltage line cutting through 59 counties in Indiana and Illinois.
Maintaining this system covering more than 15,000 square miles and strung over more than 20,000 wood poles is a continuous, year-round project. Care of the power delivery system lines lies largely in the hands of Hoosier Energy's crews of operations specialists, which include line workers, substation mechanics, communications technicians, equipment testers, meter-relay technicians and others.
Substations are located throughout a power delivery network to receive high-voltage power and reduce its voltage for local use. Substations are secondary or 'sub' transformation powers in the power delivery system.
The substation contains various types of equipment that adjust the voltage before it is sent to homes over distribution lines. A power plant with its onsite switching station or a primary substation is considered the primary transformation point. In the Hoosier Energy system, primary substations deal with voltages of 345-kilovolts, 168-kilovolt, 138-kilovolts or similar numbers. Distribution substations are those that receive power at 69-kilovolts and send power over distribution cooperative (REMC/REC) lines at 12 kilovolts. Substations may also contain switching facilities to direct power as needed.
Equipment in substations includes:
Transformers - substation transformers accept high voltage electricity from transmission lines, drop and voltage and send it through distribution lines to distribution transformers.
Regulators - When outgoing voltage becomes too high or too low, a regulator can automatically adjust the ratio to bring the voltage back to the needed level.
Circuit breakers - While current is still flowing, a circuit breaker can quickly interrupt a circuit.
Hoosier Energy power delivery crews work out of several work centers including Bloomington, Worthington, English, Petersburg, Napoleon, Rushville,Poseyville and Seymour.