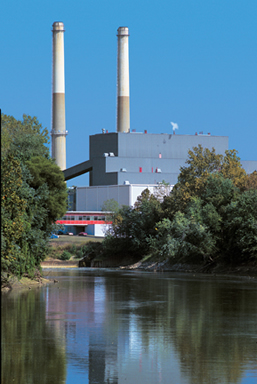 Corporate Information
Ratts Generating Station
The Frank E. Ratts Generating Station holds a place of honor in the history of Hoosier Energy and Indiana's rural electric cooperative movement.
Rising nine stories above the ground on the banks of the White River near Petersburg in Pike County, the 250-megawatt low-cost coal plant was Indiana's first electric cooperative power plant. When the plant came online in January 1970 it marked the end of fierce battles with investor-owned utilities and a new era of cooperative generation in Indiana.
Over the years, Hoosier Energy invested millions to reduce air emissions and improve combustion and efficiency. But by 2012, it became apparent that the coal plant could not cost effectively meet increasingly stricter environmental regulations. After setting generating records throughout much of its history, the plant operated for the last time at 9:50 a.m. on March 10, 2015.
The plant's highly dedicated, close-knit workforce performed superbly over the plant's lifespan, operating the generating station efficiently and safely for more than four decades.
The Ratts workforce made the plant a place of special distinction.
That legacy will live on, thanks to them.
Ratts Generating Station Facts
Indiana's first electric cooperative power plant.
Named after Frank E. Ratts, Hoosier Energy's first general manager, who was instrumental in seeing that the plant was built.
Hoosier Energy and member electric cooperatives waged a court battle in the late 1960s with investor-owned utilities to build and open the plant.
Ground was broken on May 14, 1962.
Began commercial operation in April 1970.
An economical and efficient source of electric power for Indiana electric cooperative consumers for more than 45 years.
250-megawatt coal-fired facility with two steam/electric turbine/generators.
Forty-six employees worked at the power plant with an additional eight transmission system employees based at a work center on the site.
Nine stories high.
Built on an acre of concrete, four feet thick.
Two, 300-foot stacks.
Located north of Petersburg, Ind., along the White River in southwestern Indiana's Pike County.
Last operating day: March 10, 2015, at 9:50 a.m.
Since the Ratts Plant began operation in 1970
60 million net megawatts of power.
All-time record of 1.7 million megawatt-hours of generation in 2007.
28.1 million tons of coal.
86 percent average lifetime equivalent availability.
Superior safety record with Hoosier Energy record of eight consecutive years with no lost time.