Corporate Information
System Control Center
The nerve center of Hoosier Energy's power delivery system is the system control center. Highly trained specialists man the center 24 hours a day, 7 days a week to make sure power is reaching the 800,000 residents, businesses, industries and farms in 48 Indiana counties and 11 southeastern Illinois counties served by Hoosier Energy member systems.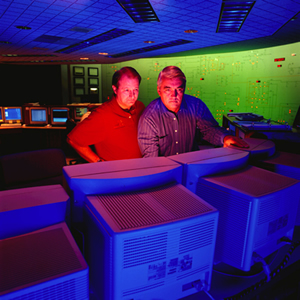 Control operators regulate the generation, flow and delivery of power throughout the 15,000-square-mile delivery area. Operators make sure the amount of electricity available balances the power demanded by consumers. Demand and generating resources constantly fluctuate. Working with other control areas in the Midwest Independent System Operator (MISO) grid control region, Hoosier Energy maintains frequency of generation and transmission. The operators constantly monitor interconnections with neighboring utilities.
Remote sensors monitor the energy flow and feed the information over a microwave system to the control room. The data is brought into Hoosier Energy's Supervisory Control and Data Acquisition or SCADA system. Information is recorded, processed and displayed on control operators' display terminals.
The control operators work with neighboring utilities and the Midwest Independent System Operator (MISO) regional transmission organization to help meet energy needs and ensure reliable transmission throughout a multi-state region. Hoosier Energy prepares a forecast of energy needs each day to meet member power supply requirements